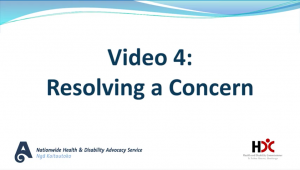 The Health and Disability Commissioner and the Nationwide Health and Disability Advocacy Service have released a series of videos to help people with learning disabilities think about their own experiences with using disability services and their rights under the Code. Follow this link to watch Video 4:
https://youtu.be/BOdNixZ-jGc
and it is available with captions and NZSL at:
https://youtu.be/fp3iKwJGFsU
 Video four shows how to resolve concerns about a support worker. Sam is unhappy and talks to an Advocate about his support worker not showing up on time. Together they talk to Sam's service coordinator about how the situation can be improved.